Regular price

$ 399.00

Sale price

$ 299.99
PASUB15
In Stock Ships within 48 hours
Automatic 14-Day Risk Free Trial
Hurry, only 2 items left in stock!
Battery Powered 15 inch Subwoofer

Quite possibly the only solution to have real BASS anywhere!  Even if there is no electricity nearby.  That's right, this subwoofer runs on battery power for hours of partying anywhere. 
Our NEW PA SUB15 was designed to add depth to the first two octaves of our PA15, PA10 or any other portable speaker that has an output jack, even YOUR CAR! As well as being completely portable. It even has wheels!
The PASUB15 contains a pro-audio 15-inch woofer along with a powerful 300W RMS (600W max).  Class D power amplifier with user adjustable active crossover for the seamless integration with your other speakers.
Dimensions:   23" H x 16.7" W x 19" D
Weight: 59 lbs
Subwoofer: 15" pro audio subwoofer with 3" coil
Amplifier: 300W RMS, 600W Max
Frequency Response: 35Hz-150Hz @-3dB
Battery: 12V 40Ah SLA
Infrasonic Filter: 12dB/octave @ 30Hz
Crossover: 12dB/octave @50-150Hz
The PASUB15 is a portable, wireless, DJ/Party subwoofer!  It is the perfect companion to our PA10 or PA15 speakers, or with other brands of wireless speakers that lack bass. That's right, a battery-powered subwoofer!!  The PASUB15 will add that low-frequency bass that is missing from your full-range speakers, filling a room with clean low bass down to 35Hz.  It's 59 pounds with its big SLA battery, 15-inch subwoofer, and 300 Watts RMS amplifier.  It does have wheels with locks so it can be rolled into place.  It also has a standard-size pole mount cup on the top so it can be used as a stand for our PA10 or PA15 full-range speakers.  (stand not included)  The audio input sources are: ¼" TRS, RCA jacks, or 3.5mm stereo jack.  It has an adjustable low pass crossover, gain, and a 0/180 degree phase switch so it can blend in with any other full-range speaker perfectly. The battery is big enough to play very loud for 3 hours before needing to recharge.  The PASUB15 can recharge while it plays. 
For shipping outside the 48 contiguous states + DC, please email a request.  Due to the size and weight, shipping has to be entered manually.  
Share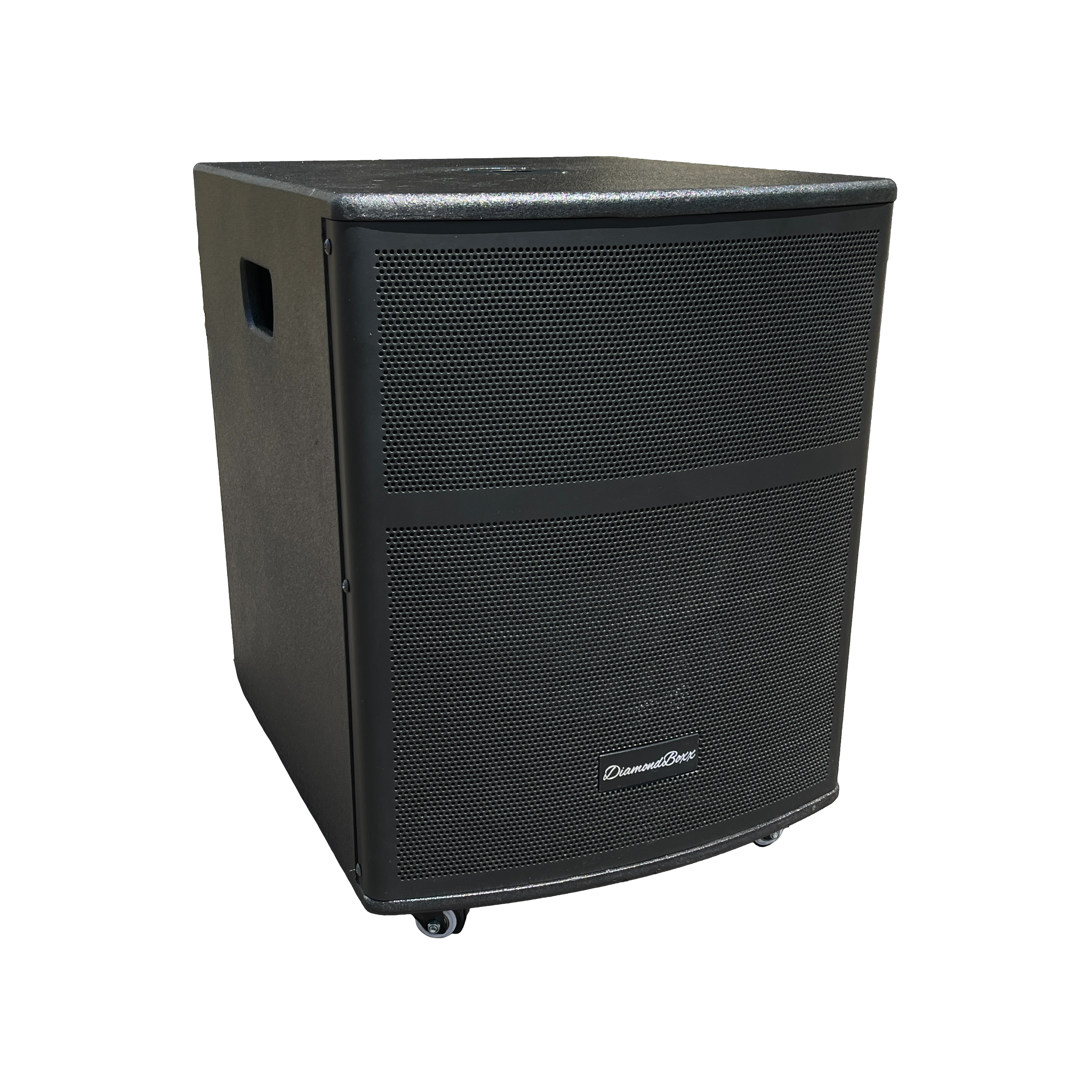 Testimonials





Great clarity, strong bass. sleek design good weight.

710 FUNK PLAYER 
This XL2 speaker is so good that right after I bought my first one, I purchased another. I also purchased the sub8.2 to go along with the XL2. Best speakers ever!! Don't hesitate! These speakers are not just another
purchase but an actual investment. I truly believe I could resell my setup
for more than what I bought it for!

Paul G
Seems to be a great product so far. Diamond box never disappoints.

Russell Sudbury
Sound is A ++! My brother bought one a while back and I knew I had to get one.

Rigo Guijosa
Amazing output and sound quality for the price, can't beat it!

Steven Robbin