Regular price

$ 14.99

Sale price

$ 14.99
Replacement Feet Kit Models XL, XL2
In Stock Ships within 48 hours
Automatic 14-Day Risk Free Trial
DiamondBoxx Replacement Feet Kit (Fits Models XL, XL2)
These are original replacement feet for the DiamondBoxx Model XL or XL2
Kit includes 4 original rubber feet, 4 screws, 8 flat washers and 4 lock nuts. 
DiamondBoxx XL and XL2 models need to be disassembled by removing the front panel in order to change or replace the feet.  If your XL or XL2 is within the warranty period we suggest sending it back to DiamondBoxx and having the work performed by DiamondBoxx to retain your original warranty.  Opening your unit elsewhere will void the warranty.
MUST BE USED IN SAME EXACT LOCATION AS ORIGINAL FEET.  ANY DEVIATION FROM THIS COULD CAUSE INJURY, FIRE, AND DAMAGE TO PERSONS OR DIAMONDBOXX AS WELL AS VOIDING ALL WARRANTY. 
RETURNS
Returns are accepted within 14 days of receipt of product. Product must be returned in NEW condition.  Customer is responsible for shipping charges and insurance in sending the product to DiamondBoxx. There is a 10% restocking fee.
Share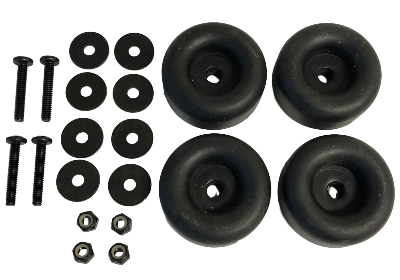 Testimonials





Great clarity, strong bass. sleek design good weight.

710 FUNK PLAYER 
This XL2 speaker is so good that right after I bought my first one, I purchased another. I also purchased the sub8.2 to go along with the XL2. Best speakers ever!! Don't hesitate! These speakers are not just another
purchase but an actual investment. I truly believe I could resell my setup
for more than what I bought it for!

Paul G
Seems to be a great product so far. Diamond box never disappoints.

Russell Sudbury
Sound is A ++! My brother bought one a while back and I knew I had to get one.

Rigo Guijosa
Amazing output and sound quality for the price, can't beat it!

Steven Robbin